Money Domme DIAMOND DIVA PRINCESS & Her paypig moneyslave trophies! » ART BRAT
ART is Not Safe
For the Love of Disruptive Strategies and Utopian Visions in Contemporary Art and Culture No.1 – Ltd Edition Print

GOD SAVE DAMIEN HIRST

Painstakingly created from bits of old newspaper and recycled art by Jamie Reid (who did the famous Sex Pistols graphics of the Queen with a safety pin through her cheek).
Received an email from the Stuckists which read:
"Last December, Damien Hirst, worth over £100 million, took legal action against Cartrain a 16 year old grafitti artist, who used the image of Hirst's "£50 million" diamond skull in a collage. Cartrain was forced to hand over £200 to Hirst. Now the web site has posted over 50 collages using Hirst's diamond skull.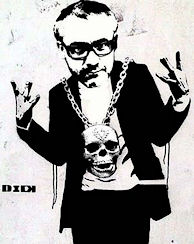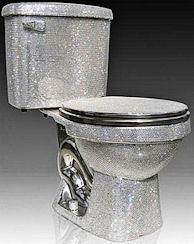 Artists include James Cauty of hit group KLF (who once burnt £1,000,000) , Jamie Reid, who did the famous Sex Pistols graphics of the Queen with a safety pin through her cheek, Billy Childish, Charles Thomson and John LeKay."
Street Urchin Art Appeal

Finding this extremely amusing, I was compelled to represent the USA in the online catalogue (compiled by James Cauty (and the art collective L13) Street Urchin Art Appeal.

I entitled My contribution to the collection:

'For The Love of Mount Skullmore'

LMAO.. you can also view it on redragtoabull.com – look for Nazboh – that's me! ENJOY
Jimmy Cauty of KLF re-posted this on his website, check it out HERE.
In an article about this controversy, entitled 'Copycats and Diamond Skulls', Cartrain, Shepherd Fairy, Damien Hirst, the art collective L13 and Red Rag to a Bull were mentioned:
When the art collective L13 heard of Damien Hirst's threats against Cartrain, they responded in the only way they knew how: "We indulged ourselves in the sport of major copyright infringement." Creating a website called Red Rag to a Bull, the group sold limited-edition reproductions of Cartrain's piece, and, to provoke further controversy, a picture of Hirst's 'For the Love of God'. "We artists do sometimes benefit from protecting our copyright but only up to a point," says Red Rag's Jimmy Cauty Bull. "Hirst went past the point. Cartrain was not trying to pass himself off as Hirst; he appropriated a major cultural reference point as part of a new work."
Cartrain's work was not meant to take the place of the original, but to comment on it. "All art is subverted from other art," adds Jimmy. "You can follow the trail of ideas right back to the stone age. If an artist tries to halt the forward flow of ideas and claim ownership of an idea the whole system grinds to a halt. Besides, the Hirst image of the diamond skull has been reproduced thousands of times in the last year, so it's virtually in the public domain."
Read more about it in Huck Magazine, issue 14.
In the meantime, is Damien Hirst a SERIAL PLAGIARIST by Art Info, and check out Eight New Claims of Plagiarism Against Damien Hirst as published by Juxtapoz Magazine.

All Rights Reserved © Diamond Diva Princess. Unauthorized use prohibited.