Money Domme DIAMOND DIVA PRINCESS & Her paypig moneyslave trophies! » BARBIE DREAM HOUSE
I have a BEAUTIFUL house, which My lucky little moneyslaves pay for in it's entirety, INCLUDING My GORGEOUS high-end & rare antique furnishings. Below is the full story of My BARBIE DREAM HOUSE, in chronological order, up to the very present!
The STATS:

My BARBIE DREAM HOUSE is CUSTOM built for ME. I just CAN'T imagine living in a house that was already owned by someone else! This house had to be custom built completely per MY specifications. I know all you little WALLETS are SO excited to be allowed to pay for such a beautiful house for your Princess!!

Here's the stats!! 2 car garage, kitchen, dining room downstairs, with all dark wood cabinetry *I LOVE WARM DARK WOODS* sliding glass doors leading out from the dining room to the back patio, covered patio, with ceiling fans so I can spend warm nights outside lounging with a nice breeze.
Beautiful large GREAT ROOM downstairs, guest room/den and full bath. Upstairs, Master Suite, with WALK-IN CLOSET the size of a small room FOR MOI. Princess needs LOTS of room for all the clothes, shoes and FURS you buy Her! My boudoir/studio, spare room, and loft area! Two full baths upstairs for a total of 3 baths.. LOL.. lots of places to primp, and mirrors on every corner!!
Uh huh, all of you new boyz reading this are just ACHING to tribute toward MY new house aren't you? Don't you just love the fact that I live in luxury and MAKE YOU PAY FOR MY OPULENT LIFESTYLE? Give into your need to Feed My Insatiable Greed NOW!! Nothing makes you feel as good as you feel when you're giving ME what I WANT!!
Update on My BARBIE DREAM HOUSE!
I have and will continue to release SUPER EXPENSIVE videos of My GORGEOUS house, going through rooms & detailing pieces of furniture that you have bought for Me, saying this was bought by this slave, and this was bought by that slave, so contact Me ASAP for the chance to buy a piece of My decor for the designing!!
As for the basic layout, which most of you that are lucky enough to talk to Me personally already know.. the house is two-story, the first floor consists of guest bedroom, full-bath, the great room, which is next to the dining room, the dining room has sliding glass doors which open up onto the patio, which has a ceiling with fan, the kitchen, which has dark wood cabinetry, black counters with silver flecks, and all black & brushed stainless steel appliances, stove, microwave, dishwasher, fridge etc.
Upstairs there are two other bedrooms, the master suite  with adjacent bath, large walk-in closet (the size of a small room.. w00t w00t!!), My boudoir/studio, a second bathroom upstairs (for a total of 3 bathrooms lmao) and instead of the option of a fourth room, I went with a large loft area, which has a half wall, so you can look down into the first floor below, and creates a cathedral ceiling area from the foyer below!!
I LOVE rich and luxurious colours, and luxe high-end materials, so this is totally the sort of style I am going for. Velvets, brocades, in deep red, wine, moss, and gold.
There is a six foot wall around the backyard area so it's totally private, the wall extends to the side with a gated doorway to access the back from the front side of the house.
The upscale community is ever-growing, so while being built the equity already went through the roof.. which is cool because that is a great investment of what at one time was your money, and now equals even MORE MONEY in the bank for ME!! I just LOVE investing your money for MY BENEFIT!!
There's a large two car garage, and My own studio area, the perfect place to CREATE!! And we all know what happens to YOU when I CREATE!! I create the Art that is ME and it leaves you BREATHLESS..
Art Deco, Baroque, Rococco, Tiffany Lamps
I have been looking at Art Deco, Art Nouveau, Baroque, Chippendale and Italian Rococco Antiques for My new house!! I absolutely ADORE Art Deco furniture, design and architecture!! I also love Chippendale pieces with the ball and claw feet, and Italian Rococco and Baroque speak for themselves, need I say more? I am also looking at genuine Tiffany Lamps, antique pieces designed by LC Tiffany himself, I hate reproductions.. ick!!
Aestheticism.. velvet, brocade, silk, fur..
jason, My wallet zombie from Toronto, Canada contributed close to a $$ GRAND $$ to the antique burled walnut claw foot bed that I am contemplating for the master bedroom of My new house.. its absolutely exquisite!! I love burled walnut, the grain is so delicate and classicly beautiful!!
I am also looking for a velvet window chair or chaise lounge for My new boudoir/office in My new house, I am thinking maybe a delicate champagne colour, I think it will go great with My Queen Anne Cherry vanity/jewelry armoire/full length mirror, and My Queen Anne cherry hand carved chair and footstool.. yumm I love aesthetics!! I am thinking that velvet drapes with gold tassel would be gorgeous on My dining rooms sliding glass door that opens onto My patio… purr!!
I love beautiful decadent fabrics and textures!! Velvet, brocade, silk.. YUMMY!!
Exquisite circa 1930's RARE BURLED WALNUT exotic wood hand carved claw foot bed
I bought a gorgeous antique bed with what used to be My moneyslaves money.. circa 1930s burled walnut (one of MY favourite exotic woods) with intricate hand carved claw feet.. the hand carving & workmanship is of the best quality.. won't I look divine lounging on this beautiful bed with lots of thick soft silk & brocade pillows??!!
Notice the great curving of the footboard.. absolutely breathtaking!! YUM!!
High-End TEAK Telephone Bench for My foyer
I just bought a pretty solid TEAKWOOD telephone bench for My foyer with what used to be jason & freddys money..

Won't that look pretty as you come in My front entranceway, sitting next to a coat tree?
I found a beautiful high end office desk for My office/boudoir in My new house, it matches so perfectly with My boudoir set of cherry wood vanity, armoire, and full length mirror, so I had to have it!! The desk is solid cherry, 6 feet long, three feet deep, with the pretty Queen Anne styled brass handles, as My armoire & vanity have.. its beautiful!!
Antique Gothic Throne Room Chair
| | |
| --- | --- |
| | I decided I wanted this totally decadent antique Gothic Throne Room chair that I found, circa 1920, handcarved oak!! So My lucky wallet zombie jason was allowed to buy it for Me, he's spent $$ THOUSANDS $$ of dollars the past week on antiques for Me, I KNOW he loves it!! Just thinking about Me furnishing My beautiful new house with rare & unique antiques, while he works hard for Me everyday, knowing that his hard earned CA$H is being put to good use by ME, being used to buy MYSELF luxurious beautiful expensive gifts, while he spends his life slaving away so that I can live in aesthetically exquisite surroundings!! |
I've been busy shopping for lots of totally decadent and delicious things for MYSELF and MY beautiful new house, and recently bought two HUGE tapestries with what used to be My davies money. One of the tapestries is over 6 feet long, and the other is over 7 feet long and each like nearly 6 feet wide. One will be going in My master suite, and another will be going in My great room. One is Italian style with Roman columns and a Roman statue, etc, the other is of a Cafe Scene.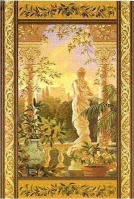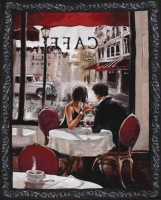 I am also trying to decide on another to hang from the wall in the area where My cathedral ceiling is.. but I'm torn between three different tapestries that I like, and want to make sure that its the PERFECT one, of course. I LOVE FINE TAPESTRIES!! They look so elegant and sumptuous. Below are phtoos of My antique Throne Room Chair and you can see the Roman Statue wall-sized Tapestry on its left.. SO GORGEOUS!
 Luxurious Velvet Furnishings
I bought a beautiful antique mahogany dining set, the table is about 6 feet long and extends to nearly 10 feet. The chairs come in a set of 6, 4 regular chairs, and then the master chairs, which have arms, the upholstered seats are gold velvet, totally luxurious!! Below is a photo of one of the master chairs..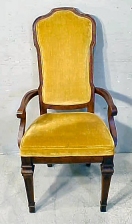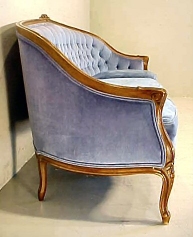 I also bought a GORGEOUS fine carved French walnut sofa with blue velvet upholstery, and a glamourous tufted back.. the sofa is nearly seven feet long, I cannot wait to lounge on it!! Its deliciously divine!! I plan to do a photo shoot on the sofa, its far too beautiful not to!! Imagine Me lying on this sofa, leisurely reclining while you are at work, slaving away to buy ME MORE beautiful things!!
I have been trying to decide what colours to go with in each room of My new house, and I have come up with a wonderful idea!! I have been looking at books with pictures of Paris and Venice, and since I am going with primarily all French & Italian antiques, I am thinking that I will match the colour schemes with the countries of origin.. and go with deep reds, rich golds, etcetera.. an opulent, aesthetically decadent, & luxurious surrounding.. YUM! I have already been looking at drapery for My new office/boudoir and I am thinking I may go with these gorgeous floor length chenille drapes that I found, which have shades of deep red and dark green, and the valance along the top has gold tassels, as well as the tie backs.. VERY sumptuous and ornate!!
Blue Palo Verde, Orange Jubilee, Pink Oleander, and My MONEY trees!! $$
A few days ago I selected the trees & shrubbery from the landscaper to go on the property surrounding My new house, one of the trees I selected is called Blue Palo Verde, and is sooo pretty, heres the photo that they show you as representative of the flowering tree:
Some of the shrubs I selected are Brilliant Hibiscus, Petite Pink Oleander, and Orange Jubilee..

I know NOTHING about plants, so I selected them from pure aesthetic quality & beauty alone. LOL Isn't that SO Me?!
Moving into My BARBIE DREAM HOUSE!
OMG I have been SO SUPER BUSY!! I have been traveling the past week, and JUST moved into My new house across the country a couple of days ago, it is SO fn beautiful!!
It's HUGE so I have been immensely busy getting everything set up how I want it and have barely made a dent in unpacking still!! I have been shopping constantly the past two days and have spent $$ THOUSANDS $$ of what used to be the money of My piggybanks on MORE beautiful things for My house, fun fun!!
I have literally "shopped til you drop" the past two days lmao!! My antiques are now here in the house and they are even MORE gorgeous than they looked in the photos from the dealer. The colours totally match the colours of the carpets, cabinetry, flooring, etc, SO well, which is pretty amazing considering I was a couple of thousand miles from the house when I selected them and still had yet to see it in person.
Today I bought a large replica of Michelangelo's hand of god painting from the Sistine Chapel for the great room in My house, which is decorated with French and Italian antiques, which will look great with the painting. It has an ornate antique style frame in bronze which is so complimentary with the colours of the room, including the warm light nutmeg carpets. I bought a set of table lamps with light bronze silky lampshades and silken tassles around each lamp pillar, toward the top. The base pedestals have intricate leaf detailing with a diamond and floral accent.. very chic!!
I am planning on having My boudoir/office painted in a deep red with dark wood blinds and luxe brocade drapes with thick sashes and delicate tassels.. I cannot wait until everything is done, I am SO impatient!!
FABULOUS RED
My office/boudoir was painted a colour called FABULOUS RED, a rich deep red, absolutely breathtaking, I love red its such a bold colour!! The trim is a dark brown/black called Black Rose, I am going with an oriental theme for the colour and basic layout of the room. I decided on gold silk drapes with brocade, very plush and thick, long, to the floor, with long gold tassel tie-backs. My cherry furniture including the solid cherry desk I just recently bought look stunning with the style and colours!! The desk is seven feet long and weighs a TON!! The guys that moved it had to take all the drawers out AND the top off of it, and two guys had to carry the desk, and even two guys had to carry the top alone, it's THAT heavy.. lol
I bought gorgeous bronze and crystal lamps for the master bedroom, with light bronze silken lampshades with a thick tassel sash that ties around the top of each lampshade, stainless steel and bronze accessories for the master bath, and sharp white egyptian cotton towels (OMG sooo soft & plush, I just LOVE egyptian cotton), and down filled blankets for My antique burled walnut bed. I bought a huge spa kit for the vanity in the master bath, and took a long luxurious bath.. I couldn't decide whether to use bath salts or bubble bath so I used both, so it was frothy AND bubbly.. lol
So much fun being THE Princess!
OMG I just absolutely ADORE My life of LEISURE. I lounge about, doing whatever I want, then log online for about an hour in between shopping and bubble baths and rape My floorlickers wallet AND jayjays wallet, taking a $$ GRAND $$ out of them within a few minutes, just a typical day in MY life!!
The next day I woke up and had a leisurely breakfast at My TEN foot long antique mahogany dining room table, and then came online and raped jayjays wallet AGAIN. lol Oh, speaking of My antique table!! I bought a gorgeous gold velvet table runner with tassels on each end for the table, put it across the table width-wise and set it up with the new bronze and crystal candle hurricane lamps I just bought, one on each end of the runner, with a sleek crystal ball in the middle between the lamps. It's SO decadently luxe!! ROWRRRrrRrrr I just love taking all your hard earned cash, spending it all on high end luxurious beautiful things for ME, while you live cheaply, scrimping and saving so that you can send Me MORE!!
I have been SUPER busy shopping.. I bought gorgeous drapes for the great room which are chenille jacquard, very sumptuous with rich tones, and gorgeous gold tassel sashes to match with the tasseled valance. I decided to buy Myself a beautiful oriental style red vase with golden inlay from freddy for My desk, and bought a carved ebony base to set it on, I LOVE ebony, its such a pretty wood. I also bought a delicate and intricately decorated little cylinder shaped oriental style box with brass closures and an oriental scene painted on the top of the wooden lid, also from lucky little manpawn freddyy!!
Artwork by the famous sculptor DAGA
| | |
| --- | --- |
| I was busy designing My office/boudoir more this morning, and while unpacking a few of My cherished art pieces, I came across one of MY favourite sculptures, which was created by an artist I have worked with by the name of DAGA. One of My favourite collectibles are statues of giraffes which I LOVE. DAGA sculpted this gorgeous piece which stands upon a solid marble base, hand signed along the bottom.. its absolutely beautiful!! So graceful and elegant. | |
I was given this piece in appreciation, and I loved it so much I also selected a piece for My mother of a polar bear.. I love his sculptures they are sooooooo smooth to the touch! He has a GREAT style!! Several of his vases which he crafted in the 1960s were collector items by the time I acquired this piece about five years ago. I would LOVE to find one of his vases from that time period!!
| | |
| --- | --- |
| | I went out to spend some more of what used to be YOUR money and bought a gorgeous set of gold linen damask table napkins, and pretty antique style napkin holders, to match MY gorgeous 10 foot long antique dining set. I also decided to buy the Nefertiti bust that I had been wanting, its sooooo pretty.. bronze and elegant!! While I was shopping for it I decided to also buy a pretty Egyptian trinket box, with Egyptian hieroglyphics on the sides. To your left is a photo of the new Nefertiti bust.. |
While out shopping I found a large, heavy soapstone statue of a lion, carved in Roman style, and purchased that for the centerpiece on the table.. since the table is sooo long, *it literally looks long enough to be a conference table* the lion fits well in the middle area, sitting atop the gold crushed velvet & tasseled table runner that runs across the middle. I bought soapstone candle holders to put on each side of the lion, which are carved to look like Roman pillars.
Last nite I also bought a GORGEOUS bedding set for MY breathtaking antique burled walnut bed from MY jayjay.. its gold silk jacquard.. luxe & soft & indulgently sumptuous!! It will look sooo good with My burgundy & gold jacquard drapes!!
I grabbed a few photographs of MY exquisite dining table, here are a couple for you to DROOL OVER!!
Don't you just LOVE the way the light gleams off of the mahogany like a sheet of glass? Mahogany is one of My FAV woods, it has such a lustrous grain.. YUM!! Also check out My soapstone lion (whom I christened "Sigmund" after My favourite Freud) that I bought with what was once YOUR money.. isn't he PRETTY??!!
FINE WOODS
My boudoir/studio is soooo super chic!! I'm so glad I decided to have it painted the "Fabulous Red" – I just LOVE IT!! Its SO saucy & bold!! The Black Rose trim goes soo well with all of My deep cherry furniture!! I am now looking at antique walnut nightstands to match with My antique burled walnut bed.. I have a total wood fetish.. My favourite woods are burled walnut, ebony, cherry, and mahogany. I LOVE the grain of mahogany, its so gorgeous, and it really comes out when its oiled.. breathtaking!!
I can't fathom why anyone would buy fake wood its so VILE!! I think the only thing worse than fake wood furniture is fake wood wall paneling!! GAG ME that is sooo gross!! But then again, some people are stuck with that crap when they buy these used houses from the seventies, and are too cheap or poor to change it.. I'm so snotty, because I totally cannot imagine buying a "used house" as I like to call it, I love being able to plan out your own style, select what YOU want every step of the way, and not have to live someplace that someone else planned and had built and has lived in before you, eww!! But I just LOVE the thought of My little piggies living in astro-turfed, orange-couched, floral-curtained, shag-rugged houses, or little cramped 1 bedroom apartments!! LOL!!
Ok, so that was My commentary on wood as opposed to fakey wood, next week's commentary is on fine crystal as opposed to cheapy crystal, or worse yet, glass cut to look like crystal!! .. LMAO
"Someday a real rain will come and wash all the scum off the streets.. " lmao I LOVE that line of this song, it SO much reminds Me of the undesirables that one is LOATH to run across, but for some fucking reason they continue to EXIST.. the nerve!!
The Decadent Garden of Eden & mans temptation..
Here's a little photo I took of monkey in My antique burled walnut bed:

On My bed are My new gold silk jacquard bed linens that I bought last week with what used to be My jayjays money!! ROWR!! On the one side you see one of My solid bronze & crystal lamps, with the silken bronze shade with tassel, and beyond *which you cannot see* is one of the large windows with burgundy & gold jacquard drapes, the windows in the master bedroom have bronze drapery rods, with amber glass balls on each end.. SO PRETTY!!
I've totally decided that I want to do the master suite in My new house in a debauched opulent "le jardin d'eden/vigna italiana" styled theme.. the walls were just painted a gorgeous shade of moss, a rich hue of green somewhere between sage and olive, and the master bath is a warm beige, that looks like cafe au lait with extra milk, yum!! So I bought silk vines & ivy, and soft squishy faux grapes, and am having a trellis put up, in the entranceway of the master bath, laden with vines & grapes, like a succulent decadent garden of eden, and plan to have a silk tree put in, with golden apples on the tree and a golden apple with a bite taken out, lying on the floor beside it.. "man's temptation" oOoOo.. I just love how you can look back hundreds, and thousands of years and read about wanton women tempting manpawns to sin, and the manpawns sinning.. lol.. I mean it doesn't matter what direction you look in, history, religion, literature, philosophy.. its like an elemental part of the human condition.. men being weak in the presence of a Woman that KNOWS what she wants, and KNOWS how to get it!
Antique Walnut Nightstands
I bought a set of STUNNING antique walnut night stands to match with MY antique burled walnut bed.. *which were paid for by My a lucky WALLET* ..OMG they are soooo beautiful!! They are in French style, with gorgeous inlay along the top of each stand, brass detailing on the top of the front legs, and again at the bottom of each foot.
They even have pull out serving trays with leather tops.. so fn cool!! They are perfectly decadent & delicious!! The archetypal nightstands for leisurely breakfasts in bed!! YUM!!
Dom Perignon & Crystal

OMG I'm SO in My element living here, this area is filled with a copious assortment of country clubs, golf clubs, large tasteful malls, and luxurious couture shops & plazas!! OMG I FREAKING LOVE IT!!
The past few days were spent out shopping, Sunday I had a nice luncheon engagement, and last evening I indulged in Prime Rib & Dom Perignon!
While out shopping with what used to be YOUR money, I bought a BEAUTIFUL Irish lead crystal vanity tray for the vanity in My master bath, and a crystal egg to hold cotton balls, similar in shape to a Faberge egg, only in crystal, the master bath looks SO DIVINE!!
Custom made drapes in gold & crème SILK
I let freddy buy a gorgeous pair of custom made drapes for My Parisian styled boudoir/studio. I had mentioned previously on My diary how I want to put long lush drapes on either side of My mirrored glass doors, and I have been looking for the appropriate pair, which are hard to find, because mostly you can only find drapes up to 84 inches long. These are absolutely divine in gold and crème silk!! Perfectly Frenchy!! Here's a close-up photograph of the design in the rich luxurious fabric: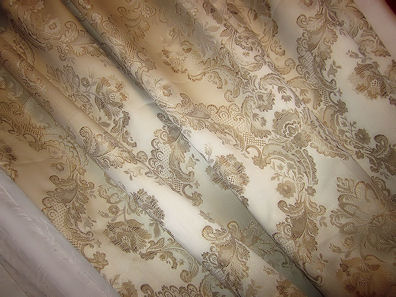 Aren't they luscious?!! I have gorgeous thick gold silk tassels to tie them back on either side of the mirrored glass doors, and My cherry vanity set is right next to the doors, so it will look positively sumptuous!!
Antique Burled Walnut ART DECO Armoire
I purchased this beautiful rare antique high end Art Deco burled walnut armoire from one of My antique dealers for My great room. It is from France, circa the early 1900s. The entire piece is solid BURLED WALNUT, with a gorgeous beveled full length mirror center front. I just LOVE purchasing gorgeous antiques made of RARE exotic woods.. this piece alone is worth close to 6000 dollars. The burled walnut has a rich patina, and the piece is indicative of art deco styling, with sleek contours.. it will more than likely go in the same area as My french carved walnut & velvet tufted sofa. This piece is six and a half feet tall and about 5 feet wide, its HUGE.. here's a little photo of it from the dealer..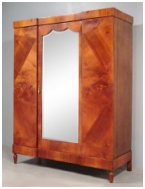 All Rights Reserved © Diamond Diva Princess. Unauthorized use prohibited.