Money Domme DIAMOND DIVA PRINCESS & Her paypig moneyslave trophies! » LAP OF LUXURY
Weak willed fools drool over My CRYSTAL encrusted shoes
I have the simplest tastes. I am always satisfied with the best. – Oscar Wilde

ME: SO pretty, another fav pair ..the buckles also have swarovski crystals, and the entire ankle strap
him: its funny in a way that we're talking about crystal covered shoes for, and im trying to give up everything just so i can give you everything
ME: I know isnt it GREAT, bejeweled shoes are so NOT a necessity, they are like probably one of the most opposite of a necessary item possible ..you are eating ramen and buying Me expensive high-end designer shoes bejeweled with swarovski crystals, such an extravagant item.. LMAO OMG I LOVE IT.
him: oh yes ..trying to figure out which necessities i can live without just so you can splurge on such luxuries
ME: the more you think about depriving yourself of LIFE NECESSITIES ..scrimp and save so I can squander your hard earned cash on such GORGEOUS trivialities, it just drives you MORE under MY SPELL and MORE CRAZY ABOUT ME
him: I need to deprive myself of everything to give you everything ..cant control it. I'll gladly stay in worn and old clothes just so you can dress in crystal encrusted shoes and gorgeous nylons
..ahaha even the thought of MY shoes drives you over the brink into OBSESSION. Don't you just LOVE how I put you under My hypnotic spell and make you CRAVE to buy such lovely gifts for ME? you want to spend more on beautiful shoes for Me than you spend on your entire wardrobe, don't you? Even at this moment you feel the URGE growing within you, to do MY bidding.. the NEED to spoil ME, to lavish Me with PRETTY things.. go ahead, succumb to the COMPULSION, drone. you're just a weak little fool for ME and I'm way more than you can possibly resist.. GIVE IN.
I think he actually LIKES the thought of Me being so careless with his money and feelings
There is a vitality, a life-force, an energy, a quickening that is translated through you into action and because there is only one of you in all of time, this expression is unique. – Martha Graham
OMG SO many drones contacted Me about My diary post, a couple of entries back, where I mentioned a pair of MY Swarovski crystal encrusted designer heels.. and even though I KNOW so many of you said that another post like that would just drive you totally into complete MADNESS, I just can't resist posting yet another. ahaha.. who am I fooling? We all know I just LOVE driving you CRAZY!!
ME: buy two pairs size small.. for when I run a pair carelessly, there will be another pair.
him: huh
ME: huh what ..I want you to get two pairs of them in size small, I LOVE THEM! This way when I run a pair, there will be another pair unworn
him: sounded like you were just going to ruin a pair cuz you could
ME: oh sure, I run them all the time, Im not careful with them at all. Plus, they only make them for a short time, so once you run them thats it unless you get extra. Another time I had a big bottle of Chanel No 5 bubble bath I let a slave buy, the bubble bath alone is close to 100 dollars, then I just knocked it off the vanity counter and the glass broke right off the top in one chunk, I simply made him go buy another one.
him: on purpose?
ME: well no not on purpose, but I wasnt being careful at all.. if I was, it wouldnt have happened, would it?
him: god you are cruel
ME: you MUST go there tomorrow so you dont miss out on them, I will be so upset if you do, and it will be ALL YOUR FAULT. I will make you bend over backwards for Me, and then I will give you an address to send them to Me. you are SO fortunate, you will DO ANYTHING for this honour, wont you?
him: bend over backwards????
ME: oh yes
him: arent the nylons enough
ME: youll do anything, jump through hoops for Me. oh NO not near enough, are they? That is a gift to YOU. A GIFT to YOU.. it is a GIFT TO YOU to shop for ME, OMG such fortune smiles upon you!
(lmao I just now fined him 200 dollars AGAIN for that. Can you believe he asked wasnt that enough?? btw, below are pix of MY gorgeous WOLFORD Limited Edition SWAROVSKI encrusted couture hosiery)


A partial day later, he was writing such gems as this:
"I love buying Princess things. I am dying to buy her Wolford hosiery encrusted with swarovski crystals. In fact I'll buy her a couple of pair. That way if she decides to rip one, who cares she will have a spare… and it was only my money. She told me she loved Wolford hosiery and all I could do was desperately search for some to make her happy. These will look gorgeous with her swarovski crystal covered shoes. I can't wait to see her wearing them."
Then, after going to the boutique to buy them for Me:
"Having to fight traffic and nerves. I went to a very upscale shop where I stuck out like a sore thumb, but it was for Princess so I knew I had to do it. Never having been in an intimates store I had to keep from getting too shy, nervous or copping out. I had to get Princess her wonderful Wolford hosiery with Swarovski crystals. Each pair cost nearly $200. I did not care. She is worth every penny. To think that she will be walking around with basically $100 bills around each leg. And when one gets ripped, no big deal for I bought her a second so she does not have to be worried about being careful. It was such a gret thrill and a pleasure to buy Princess such gifts."
LMAO note how many times he mentions how there will be a second pair for when I carelessly snag the first.. I think he actually LIKES the thought of Me being so careless with his money and feelings!! IN fact, I would not doubt that his fascination for My heedless carelessness has progressed to the point of being FETISHIZED within his brain, creating a chemical reaction that fires off whenever he even thinks of Me being so CAPRICIOUS, GREEDY, and SELF-CENTERED. Oh boy, is he screwed now.
Escargots de Bourgogne, Latte & Poetry, Absinthe Edouard
Ive been reading this magazine that is dedicated to affluent living in My area, reviews of things such as fine boutiques, fine dining, art events, etcetera, and was reading the section devoted to the best in fine dining, and read about a few different French restaurants in the area, which led Me to a website which reviews all the best posh restaurants here, and I found a review on this one French restaurant that I decided I MUST try.
The reviews I read prior to going to the restaurant, all raved about the courtly service, exquisite decor (crystal sconces, draperies and lighting), and the decorous and tasteful ambiance.. not to mention the reviews on the menu, which proclaim the executive chef as having a talent for invention, stating that food writers and discriminating diners alike have come to appreciate the unique expression of the great French dining tradition presented in the dining room of this fabulous French restaurant, which they say the local sophisticates have made an institution, by its extreme popularity and sterling reputation.
Below is a photo of the dining room..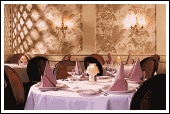 So of course, I already had HIGH expectations, before ever walking through the doors. I ordered filet mignon with bernaise sauce, which was absolutely DELICIOUS. I also had carrot bisque soup (very smooth and creamy), and asparagus with hollandaise sauce (I LOVE hollandaise). I ordered Escargots de Bourgogne as appetizer, and this was the first time I have ever tried escargot.. I was not sure what I would think of it.. LOL.. I thought I might not like it, but I LOVED IT. After trying them and liking them SO much I decided to read about Escargots de Bourgogne, and escargot in general, and found that Escargots de Bourgogne, ie burgundy escargot, are the BEST available..
"A timeless French delicacy, they are finally available to gourmands in the United States. Served in the world's finest French restaurants, these are the escargot reserved for dignitaries, movie stars and the like.
Authentic Burgundy snails (Helix Pomatia Linne), are found only in the wild in southeastern France. There are 116 types of edible snails, and the Helix Pomatia Linne is the unanimously proclaimed #1 in terms of flavor and texture."
So I suppose that is why they were of SUCH great quality and SO YUMMY!! They served them in a flat appetizer dish which had little pockets, rounded along the bottom, and filling each pocket which surrounded each escargot was a butter sauce with garlic and basil.. MM!! They were served with french bread, which you dip into the sauce.. yumm
The service was IMPECCABLE.. courtly is the ONLY word fit to describe it. The evening was consummated with Mousse au Chocolat and Dom Perignon.. ROWR!!
oOoOo My Absinthe Edouard came in this week as well!! I am so pleased that it was shipped so promptly, and Im VERY happy that MY drudge georgie was able to order it BEFORE they sold out again. The bottle is absolutely gorgeous, it came sealed in wax, with the imprint of the crest of Jade within the wax seal. VERY pretty. AND OMG is it SO FABULOUS!!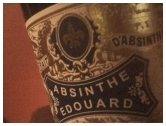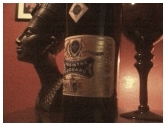 Its of VERY superior quality, the taste is superb, you can taste the wormwood, the fennel, the spices, exactly as the reviews described it. The effect is PROFOUND. I poured a very small amount into My antique absinthe glass, to the acid etching, and added 4 equal parts of water ie 1/5.. and within five minutes of sipping it, you are feeling the most amazing effect, it reminds Me of something I read..
"A glass of absinthe is as poetical as anything in the world. What difference is there between a glass of absinthe and a sunset?" – Oscar Wilde


All Rights Reserved © Diamond Diva Princess. Unauthorized use prohibited.