Money Domme DIAMOND DIVA PRINCESS & Her paypig moneyslave trophies! » NITEFLIRT
High-End FINANCIAL DOMINATION Phone Sessions
Talk to DIAMOND DIVA PRINCESS on Niteflirt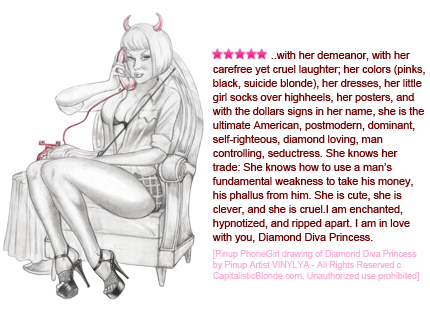 I use Niteflirt for incoming calls from My website members, owned slaves, and potential slave applicants. Niteflirt.com offers 3 free minutes when you sign up with their service. Upon joining, you will automatically receive 3 free minutes within your account, to use whenever you choose.


Doomed zombies are we, once Princess's pretty, thoughtlessly cruel laugh starts reverberating in our brains…Haughty lectures, delivered with a sneer at my weaknesses..a deepening sense of stickiness in the web i am now trapped in…i foolishly try to interject a word, and am overidden by Her lightning quick mind, instilling in me yet another thought process designed to destroy my will…that's right, weak little slave, add on some more money for the Princess…there's a good little doormat!

She is so intelligent and educated and articulate and gorgeous and controlling. I can see her implanting herself in my head, and I am genuinely afraid of what she is going to make me do

Princess is very intoxicating in the way she keeps repeating brainwashing phrases until you are driven crazy and crave to do what she suggests! I love her madly! I love her to death!!

superhot. perfectly bitchy and adorable. unfair really.

Oooohhh Princess, You are the ultimate killing machine, plundering my soft brain with Your wicked, lethal attitude and beauty. i slave for You now, with a slack jaw and sweaty brow.

Beautiful, tantalizing and irresistible…who can say no? Not me, even if I wanted to.
(you can call Me through Niteflirt. Some of My favourite themed phone lines are listed below!)
LIVE PHONE LINES

Financial Domination EXTRAVAGANT LUXURY LINE!! (via Niteflirt)
| | |
| --- | --- |
| | I am Vanity, Greed, Snobbery.. ALL the Delicious things you LOVE!! I am Everything you want to bow down for, you LIVE to serve ME, to lie prostrate at MY Perfect feet, begging to PLEASE ME, to give ME EVERYTHING!! I am your ONLY Luxury! 1-800-TO-FLIRT ext. o1-85-723 |

SPOIL PRINCESS High End FUR, Jewels, Luxury! (via Niteflirt)
| | |
| --- | --- |
| | Caught in My web from the first moment you found Me, lured by My Infectious Vivacity.. slain by the aesthetic indulgence of MY platinum blonde tresses, flashing green eyes, and disarming smile. MY Poison is far MORE than you can resist.. SOME Girls are born with IT. 1-800-TO-FLIRT ext. 06-56-441 |

FORCED INTOXICATION: INEBRIATION MANIPULATION (via Niteflirt)
| | |
| --- | --- |
| | I am your Divine Madness & your Exquisite Corruption. Being your Ultimate Sin, it's only natural that I would seek to exploit your weaknesses, vices, and addictions for MY benefit. I will make you MY drunken fool, My sloshed inebriated MINDLESS DRONE! 1-800-TO-FLIRT ext. 03-77-990 |
PIGGYBANK H0tline MK ULTRA ILLUMINATI (via Niteflirt)
| | |
| --- | --- |
| | I don't want to gently lead you into moneyslavery, oh NO WAY! I want to start you on your trip through MY World with a BANG! Like a non-stop party in your wallet!! I like to have FUN with your credit & bank accounts!  1-800-TO-FLIRT, extension 02-18-596 |

Too nervous to call live?
Now you can even use your introductory 3 free minutes to listen to one of My Divalicious recorded listings on Niteflirt! Here are a couple of MY favourites:

RECORDINGS

My Philosophy of the Taoism of Financial Slavery (via Niteflirt)
| | |
| --- | --- |
| | Call NOW and become propagandized in My Royal Philosophy.. begin the path to your TOTAL INDOCTRINATION in the Religion of the Blonde Bombshell!! 1-800-TO-FLIRT ext. 0665885 |

HYPNOSIS – PANTYHOSE Teaser Hypno!! (via Niteflirt)
| | |
| --- | --- |
| | Using your weakness for MY perfect legs in PANTYHOSE & STOCKINGS, to TAKE what I want out of you!! Cha-Ching!! Sample My Hypnotic voice, pantyhose drones, call NOW! 1-800-TO-FLIRT ext. 0569432 |

Why Niteflirt.com?
Each payment processor that I select to use on My website I choose for a variety of reasons, among them MY members privacy and MY own. I choose Niteflirt for phone service, because it is secure & private. When placing or accepting calls through Niteflirt, all calls are implemented through their service, hence no one is ever privy to your personal information without your knowledge.

All Rights Reserved © Diamond Diva Princess. Unauthorized use prohibited.